Access to almost every target group
Our sector knowledge from planning, implementing and evaluating more than 250,000 campaigns has taught us what is important for successful marketing. Naturally we draw from this customer experience to help you, for example, define your target group or find suitable partners for a campaign.
Our own addresses

110.000
Exclusive addresses

1,3 Mio.
Partner addresses

43 Mio.
Our email marketing media partners
Our media partners provide you with the opportunity to cover special target groups and topics. Benefit from first-class address data for your perfect marketing.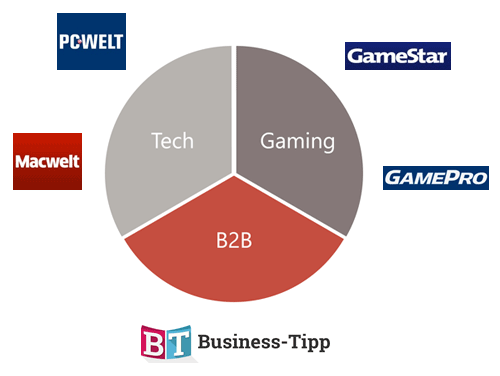 All around service: from recipient addresses to campaign management 
Our all-around service offers you significant advantages. Before the campaign is completed we will remove any duplicates from your e-mail addresses or recipient addresses so you can safe unnecessary costs.
Conception and optimisation of advertising media
We are happy to support you in creative work, for example by optimising your advertising material or promotional items. We can also integrate coupon or campaign codes into your campaign.
A/B Testing and campaign progress
If you choose to try out different layouts or subject lines before your campaign starts we can offer you A/B Testing so that your newsletter generates the best possible click rate. After a campaign is completed we optionally analyse the results. Our campaign analysis also provides you with very useful information on how to make your next campaign even more successful.
Your advantages:
Own access to real-time reporting
Pre-testing before transmission
Efficiently used media budget thanks to duplicate merge
Access to a contact database with over 43 million e-mail addresses with advertising consent
E-mail campaign from one source